PA Pre-K Counts at LEEC
PA Pre-K Counts at LEEC is an incredible opportunity for families in downtown Lancaster to enroll their Pre-K age children in a program that will set them up for learning success who otherwise may not be able to due to finances. When you enroll in our Lancaster Early Education Center's Pre-K Counts, your children get exceptional education from our certified teachers, an exceptional environment with classrooms filled with age-appropriate learning fun, and remarkably personable staff.
Childcare for Eligible Families for FREE
If your family lives in Lancaster City and you meet the eligibility requirements, you can enroll your child ages 3 (as of Sept. 1) up to kindergarten age in Pre-K Counts for FREE. Pre-K Counts runs for 180 days out of the year from 8:00am – 1:30pm. We also offer wrap-around care (anytime from 6:30am until 5:30pm) for an affordable fee so you can safely go to work all day and provide for your family while your children are cared for!
Spaces Available for 2022-2023 Enrollment
There are spots available in our Pre-K Counts program for 2022-2023. Our PA Pre-K Counts program starts on August 23 and is enrolling now. Spots do fill up. So if you think you meet the eligibility requirements, please apply today. Eligibility is fairly generous based on family size, income, and need. To learn if you qualify, you can fill out our registration on our registration page or contact us and we can let you know. You can also view the 2022 eligibility graph below which is based on the number of people in your family & income level. We would love to have your child in our Pre-K Counts Preschool in Lancaster, PA!
More Than Just Free Childcare
Your children enrolled in PA Pre-K Counts at Lancaster Early Education Center are equipped and prepared for kindergarten through our program. They will learn social skills, qualities of paying attention, how to follow directions, and even reading and math! When your child attends Pre-K Counts they are more than ready to excel in kindergarten and not fall behind. Not only that, your children receive warm, inviting care from our certified teachers and loving qualified staff. The experience at LEEC is extraordinary for our children and their families. Look around on our website to learn all of the benefits of being a LEEC family – nutritious lunches, beautiful play yard, quality classrooms, convenient location, loving staff, parent app and so much more!
Apply Today!
If you are looking for quality Preschool, childcare, want your children to be ready for kindergarten, or are simply interested in learning if you're eligible for PA Pre-k Counts with LEEC, apply today! It is our gift to know we are equipping as many children as possible in Lancaster City for beginning their school careers while supporting parents so they can work to provide for their families!
We are proud to offer the highest quality Preschool in Lancaster, PA that you can find! Quality, care, and excited staff to welcome, teach and love your children!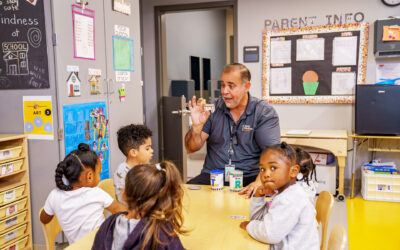 Lancaster News Paper (LNP) once again conducted their anonymous survey of local businesses and organizations to see how they rank in quality to their employees as a place of work. The surveys consist of topics including diversity, culture, ethics, training, pay,...
read more