Choosing care for your child is no small choice
Choosing to leave your precious child in the care of someone else is a choice we know parents do not take lightly. We also realize there are options for great child care in Lancaster, PA. That's why we make it our priority to provide the best care for each child that enrolls at Lancaster Early Education Center.
For Infants, Toddlers and Preschoolers, we provide safe, exceptional environments where each child receives quality, attentive care, age-appropriate learning & development tools, education to help them excel and prepare for school, and nourishing food throughout the day. At LEEC, we partner with parents to ensure the success of every child.
Age-Specific Quality Child Care – A Cut Above the Rest
We provide parents with care for Infants, Toddlers and Preschool-age Children in Lancaster, PA through 4 distinct programs.
Infant Program
Our Infant daycare program provides individualized care which is responsive to the specific developmental needs of each child. When you enroll your infant in LEEC, they are nurtured individually by staff that remains the same for their first 9 months whenever possible in an environment that fuels their development of cognitive and physical development. Our staff also helps each infant transition into their toddler rooms. Parents receive consistency, education & nourishing care for their infants enrolled at LEEC!
View the details of our Infant Program & their daily activities
Toddlers & Tweens Program
Along with individualized care and a safe environment, we nurture our toddlers' sense of wonder and development of autonomy. Our daily routine and classroom environments for toddlers help them learn to be self-directed and learn to have confidence in their abilities. Educational elements are continually rotated to help quickly growing toddlers develop cognitively with the same speed they are ready to grow. Parents get not only quality care for their toddlers at LEEC, they get exceptional learning & development for their children – helping them excel in life outside of our care!
View the details of our Toddler & Tweens Program & their daily activities
Preschool Program
Our Preschool program builds on the same foundations of our Infant & Toddler Programs with individualized care & skills of confidence & self-reliance. We age-appropriately help our preschoolers learn to be quality citizens in their classrooms and have respect for themselves and their classmates and teachers. Our curriculum is stimulating, challenging & developmentally appropriate – helping each child grow from where they are and be more than ready for Kindergarten. Parents with children enrolled in our preschool program get the peace of mind of knowing their children are cared for and given the tools to be ready for school!
View the details of our Preschool Program & their daily activities
Pre-K Counts Program
Pre-K Counts is a Department of Education–funded classroom for children who meet the guidelines for income and language or are considered at-risk for school failure. We are honored to provide this classroom in downtown Lancaster – offering our quality education and care for preschool-aged children to parents who need it but couldn't afford the quality of our care throughout the day. This classroom provides all of the same exceptional care as our Preschool Program.
Learn more about Pre-K Counts and how to know if your family may qualify.
Exceptional Staff Providing Your Child's Care
It's not just the programs and resources available to your child at child care and preschool that matter, it is the people that make an impact in the quality of your child's care.
We hire the best people! You can learn about our leadership here and read about our qualifications as well as the "needs" we require for each staff member. We were voted #1 Best Places to Work in Lancaster County – and it's no wonder to us why that is since all of our staff meets the incredible requirements needed to create a loving and caring environment for children each day.
Quality Child Care in Lancaster, PA Parents Feel Good About
It doesn't just matter what we say, or that we've been providing care since 1915, it matters if actual parents recommend LEEC. When looking for child care for your child, we hope you research parent recommendations and choose a center parents themselves are excited to recommend. Take time to read through our testimonials to see what parents are saying about LEEC. 
We are excited to offer such excellent care for Lancaster, PA families with young children. If you have any questions about any of our programs and the quality of care your child will receive when they enroll at LEEC, reach out and one of our staff will get back to you. If you're ready to enroll your child in our quality care, click below. We can't wait to meet you and help your child excel each and every day!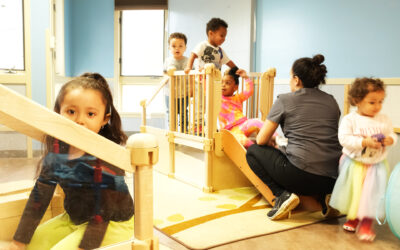 As parents, we know you want the best for your children. You look for the best schools, the best teachers, and educational institutions that can offer our little ones the best opportunities for growth and development. If you're a parent in Lancaster, PA, you don't...
read more