Offering The Best Early Care & Education in Lancaster, PA
Lancaster Early Education Center has provided the highest quality early care and education for over 100 years! All children deserve exceptional care and education and parents deserve a place they can count on while they go to work or school. It can be overwhelming to find a child care center you can trust to love and care for your children like you do, as well as use the latest tools in early education and brain research to ensure school readiness. That's why LEEC exists– to be that safe place, filled with loving, highly qualified "educators" to provide your children with everything they need to have a great early care and education experience.
Prioritizing Safety & Care
The top priority of Lancaster Early Education Center is the well-being of every child in our care. From the moment you step through their doors, you will notice the warm and welcoming environment that embraces each child with open arms. Safety measures are meticulously upheld, creating an environment where children can explore, learn, and flourish.
The center's team is composed of highly trained and certified early childhood educators who are passionate about their profession and dedicated to fostering a supportive and nurturing atmosphere. (Voted one the best places to work two year in a row! Our staff love to be here caring for each and every child.) Through a child-centered approach, they prioritize each child's unique needs and create individualized learning plans to ensure every child's individual success!
A Happy Place to Learn and Play
We believe learning should be a joyful and exciting experience, especially for young minds. At Lancaster Early Education Center, we implement a project-based curriculum that not only stimulates intellectual growth but also encourages each child's creativity and imagination. Through play-based learning, children are empowered to explore their interests, ask questions, and develop critical thinking skills all while learning how to interact with their peers and teachers.
The center's well-equipped classrooms and outdoor play areas are designed to promote hands-on learning experiences. This approach ensures that children actively participate in their education, enhancing their overall cognitive, social, emotional, and physical development.
Preparing for Future Success
While happiness and play are central to the center's philosophy, we never lose sight of our ultimate goal: preparing every child to enter kindergarten ready to learn. Lancaster Early Education Center's educators are adept at introducing age-appropriate academic concepts in an engaging manner, setting the foundation for future academic success.
From building language and communication skills to cultivating early math and science comprehension, each child's learning journey is thoughtfully guided. Moreover, they focus on fostering social skills and emotional intelligence, teaching children to collaborate, share, and resolve conflicts peacefully.
Transparent and Genuine Intentions
Another unique and positive aspect of attending Lancaster Early Education Center is our transparency and genuine dedication to our mission of helping your child grow, thrive, and be prepared for school. Unlike some other institutions, we are not connected to higher education so we have no ulterior motives for your child beyond their flourishing in their early years to be ready for a thriving future no matter where you'd like them to attend elementary school. Our focus remains solely on providing exceptional early education and ensuring each child reaches their fullest potential, just as it has been for over 100 years!
Testimonials from Happy Parents
Don't just take our word for it! Many parents in Lancaster, PA, have entrusted their children's early education to Lancaster Early Education Center and couldn't be happier with the results. Here are some of their testimonials:
"The LEEC teachers are great. Every day when I drop off my daughter, her teacher meets us with a smile and a positive attitude. She treats them all equally and makes them feel loved. She's the kind of teacher that treats the kids like her own. I appreciate that my child is with someone who cares." – Angie R.
"We love LEEC! We love the teachers, the activities they do, the meals, the updates, the pictures sent throughout the day, the bathrooms designed for toddlers making it easier to potty train and the safety."- Colleen S.
Choosing the right early education center is an important decision that lays the foundation for your child's future. Lancaster Early Education Center stands out as a shining example of excellence in early childhood education in Lancaster, PA. With their unwavering commitment to safety, happiness, health, and academic readiness, they have earned the trust and appreciation of countless parents and guardians.
If you are seeking a place where your child can flourish, discover, and develop their potential in a supportive environment, Lancaster Early Education Center is undoubtedly a top choice. Your child's journey to a bright future begins here!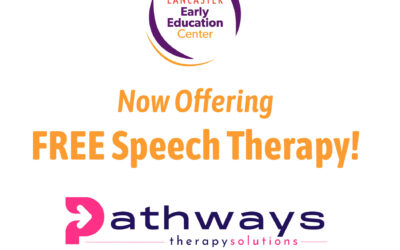 Communication Skills are Key for Child Development Communication skills are critical in shaping a child's development - impacting their intellectual, emotional, and social growth. Many children experience speech delays which can hinder their ability to learn and...
read more